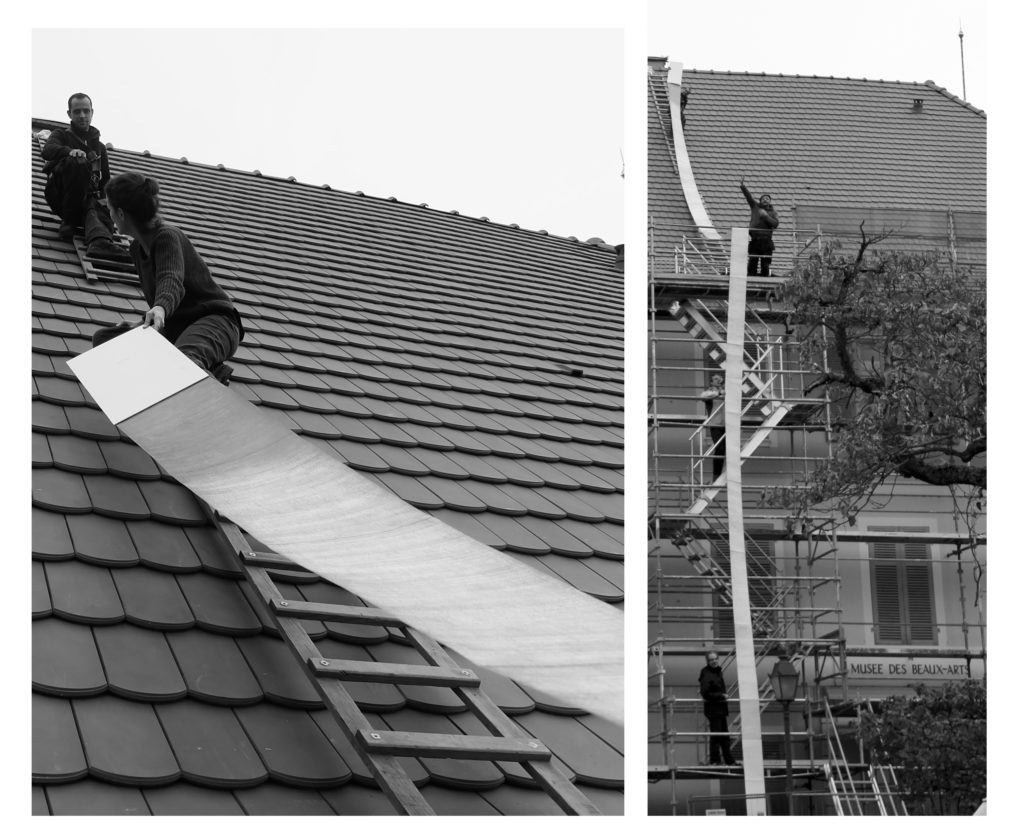 Location of the intervention Museum of Fine Arts, Mulhouse, France
The shape of the highest point of the museum of Fine Arts in Mulhouse is reproduced with the hight of 1cm. and integrated on the same point of the building. The object has à miroir effet and reflect the color of the daylight.
The drawing with the new dimensions of the museum's highest point is made.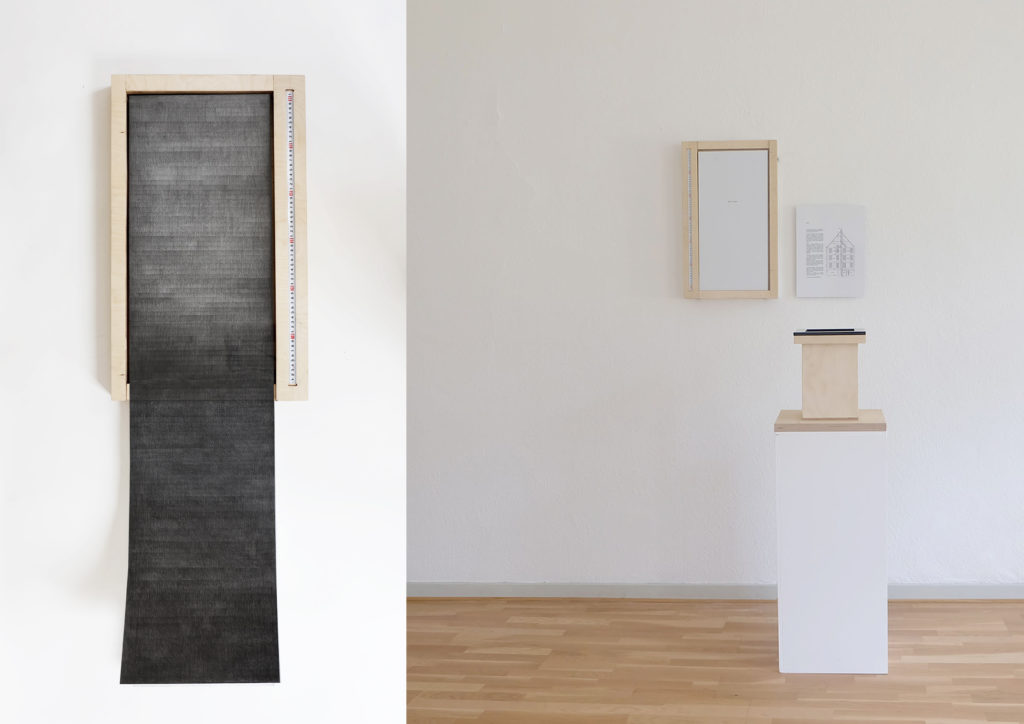 /INFTY
2019
Artistic intervention
Art submits the visual structure to the nature of research and creative interpretation, but in INFTY Boryana Petkova rethinks this idea. As a visual artist she performs the creative act as direct intervention and new reading of the already accomplished creative human presence in the natural landscape, which is the architecture.
For the French architect and designer Bernard Cache, images, even when created and literally « constructed » by humans, always include an element that exceeds the intent and function. In this sense, he questions the desire of architecture to control the environment and to « frame » the territories, as it cannot actually get hold of the potentiality of unpredictable changes. Cache uses the term inflexion images, based on the understanding that the image is not a one-to-one photograph; it is not representation or imitation of an external object, but rather a state in which the image is an internal, mental picture of an external object. The universe in which the objects are located is not stable, and it can undergo changes that lead to new opportunities for perception ».
This ambivalence is the foundation of INFTY by Boryana Petkova. By literally lifting the floor and the roof of the building, which houses the exhibition, she realizes inflexion images that set the parameters of a conceptual framework questioning the ostensibly stable mathematical parameters of architecture. The definition of inflexion in mathematics is that inflexion point is a point on a continuous plane curve at which the curve changes from being concave to convex, or vice versa. In this sense, the almost invisible interventions of Boryana Petkova are a direct attack against the conservative strategies of analysis and description of the world and man's place in it. The actual visibility of reality is not defined by geographic and political boundaries, technological options for access to information, economic, social and ideological parameters – it can be physically materialized in the quest for « elevation through the tips of the fingers », from the individual drive to reach and overcome limits, from the joint action in the name of a common goal – to overcome the outlines in which the human body is « closed ». Tus, the tangible and intangible connect in a symbiosis building the visual environment of the project, making it possible for the porcelain to bleed when cut with a razor blade because its appearance in this context is not due to its characteristics – color, flawless surface or refractory qualities defining its use, but with the idea of the instability and transience of the momentarily sealed image.
Irina Batkova
independent curator, writer, artistic director of Plus359 Gallery, founder of ARTPROJECT DEPOT